BACK EXTENSION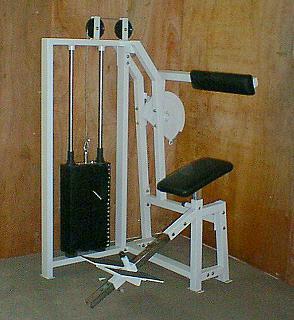 FUNCTIONS
An back extension is performed in a flex-hip position using the adjustable footplates.
Padded foot cushion places body in extended hip position for lower abdominal and hip flexor training.
SPECIFICATIONS
Built from carefully selected steel, 2.0 mm. in thickness, finished with oven-baked white epoxy coating.
Cast iron weight plates, total 20 plates, each weighing 5 kgs. total weight 100 kgs, with black paint finishing.
Moving parts are chromed-plated.
Seats are line with high-grade sponge, covered with black PVC.