LAT PULLDOWN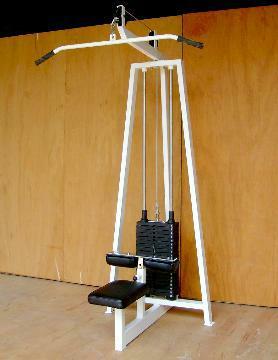 FUNCTIONS
The Lat Pulldown exercises the upper torso muscles, with a wide grip bar for various positions..
The lower body is stabilized by padded leg restraint for safe, effective workouts.
Adjustable seat height accommodates different body sizes.
SPECIFICATIONS
Built from carefully selected steel, 2.0 mm. in thickness, finished with oven-baked white epoxy coating.
Cast iron weight plates, total 20 plates, each weighing 5 kgs. total weight 100 kgs, with black paint finishing.
Moving parts are chromed-plated.
Seats are line with high-grade sponge, covered with black PVC.