RUBBER FLOORING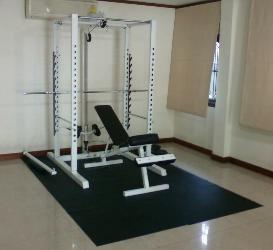 Use primarily to scratch-proof your floor (parquet, ceramic tiles, marble, etc.) from dragging benches and weight plates around. Usually laid on floor without adhesive or glue.
Width: 1 meter
Length: Can be cut to desired length not exceeding 18 meters.
Thickness: 1.5 millimeter
Above photograph shows 6 sq.m. Rubber Flooring. Two 3-meter lengths are cut and laid side-by-side on floor with slight (2 to 3 inches) overlap.
Only sold alongside other weight equipment. Not sold alone.