SMITH POWER RACK
Price of Item:
Standard 1-inch 15,990 baht |
Olympic 2-inch 16,990 baht
Price of Set:
Standard 1-inch 24,990 baht |
Olympic 2-inch 28,690 baht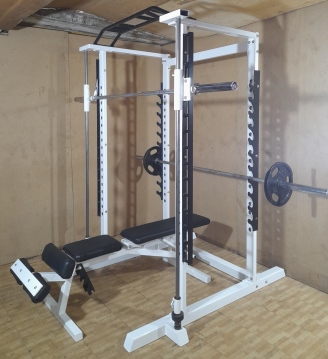 The Smith Power Rack is a versatile piece of weight-training equipment, used in combination with a Barbell, Bench and Weight Plates, to perform a variety of essential exercises. It also has a pulley system for Lat Pulldown and Low Row exercises.
Its in-bulit Power Rack design enables smooth transitions between exercises whereby the Safety Bars can be re-positioned with ease and gun-rack style barbell rests enables barbell to be shifted up or down even fully-loaded. No need to unrack the barbell nor the help of another person.
It also equipped with a Smith Machine which adds to its total functionality.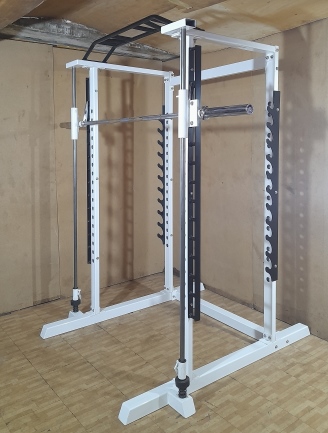 Smith Power Rack only
---
Power Racks are not built the same. As an essential part of weight-training, your choice of Power Rack can make a difference in your workouts.
The key benefit of this Power Rack is the seamless switch from exercise to exercise that require different starting barbell height. Time and effort saved will enable a better workout and better overal result.
Other items required for use:
Usage as POWER RACK

Supine Bench Press

Incline Bench Press

Decline Bench Press

Shoulder Press

Squat

Shrugs

Upright Row

Pull-Up
---
Isage as SMITH MACHINE

Supine Bench Press

Incline Bench Press

Decline Bench Press

Shoulder Press

Squats

Shrugs

Upright Row
---
---

Included Accessories:
Safety Bars
| | |
| --- | --- |
| Width | 1.21 m. (+ Standard Barbell = 2.10 m. หรือ + Olympic Barbell = 2.20 m.) |
| Depth | 1.60 m. (not inclusive of Multi-purpose Bench) |
| Height | 2.23 m. |