POWER RACK
Width 1.21 m. (+ Standard Barbell = 2.10 m. or + Olympic Barbell = 2.20 m.)
Depth 1.60 m. (not inclusive of Multi-purpose Bench)
Height 2.07 m.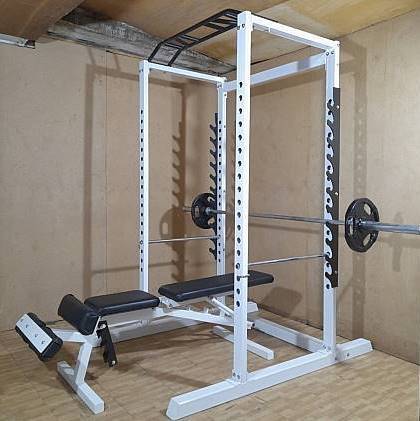 New !
New Pull-up bar with wide grip and narrow grip.
พาวเวอร์แร๊ค เป็นอุปกรณ์เอนกประสงค์สำหรับนักเพาะกาย-นักเล่นเวท เพราะเล่นได้แทบทุกส่วนของร่างกาย สามารถปรับบาร์เบลสูงต่ำได้บนขั้นฟันปลา แล้วแต่ท่าเล่นที่วางบาร์เบลสูงต่ำไม่เท่ากัน และมี safety bar ที่ปรับสูงต่ำได้เช่นกัน เพื่อความปลอดภัยในการเล่น
Other items required for use:
Please note: Demonstration photos below still show the old Power Rack with old Pull-up bar.
New Power Rack purchases will come equipped with new Pull-up bar pictured above.

Shoulder Press

Supine Chest Press

Incline Chest Press

Decline Chest Press

Upright Row

Shrugs

Squat

Lunges

Pull-Up
---

Accessories:
SAFETY BARS